Till 90s going to trifling stores were consider very cheap thing to do(over here). These markets were used to be in Sadar area, mostly for lower middle class people. They went there for sweaters, costs, boots and shoes, etc, etc. It is blessing for them.

Economy was quite different back then. Peeps who wore thrift store stuff never said it out loud. But now due to inflation, trifling is has become acceptable. Middle class people are also going there without any hesitation or shame. Not only that, in last five years those stalls has reached to our very own Sunday Bazaar.

When my bro first bought his sneakers and coat from there, my father scold him" Are we lunda wearing people? Your ma, pa never bought anything ever from lunda, how could you? Don't you know it is some dead gora's stuff?''

My father is not racist, (maybe he is ), but it is said that second hand stuff in these thrift stores are from the west, and in local lingo it's dead white people's stuff. His time was good. Life is different now. Jeans and coats are expensive for us, if not for my father.

He still have that coat. It was his best purchase from there. I bought couple of bags too. My tall friends from university said flat pumps from there is win-win. I also have no issue in having worn out , used second hand stuff. Sometimes, it just freaks me out when I think about " dead " white people. It is still somewhere back in my mind.



We have been shoping from Sunday markets from so long. Concept of these bazars is totally different from thrift markets. These are temporary day markets in tents from 11 am till dawn to provide a good shopping arena to buy the items of domestic use on alternative days on discounts. All stuff are new. It started in 80s, though it is no more discount bazzar, a good way to do shopping for middle/working class. You can find almost everything under one tent. Every area has these types of bazar.
Now there is a thrift section in almost every bazzar. Stall holders are (Pakistani) and Afghans. The more posh area, the more posh thrift stuff. Defence Sunday bazaar is famous for its branded bags. Yes, branded bags with little bit defect. Or may be they are fake. Prices are from 1500 to 500 PK Rs/-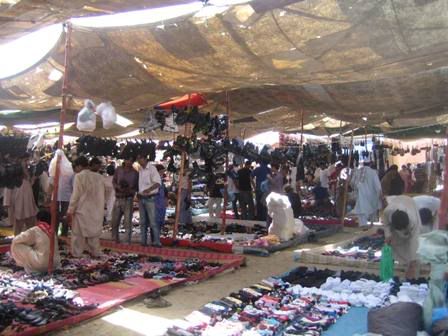 In Johar, where I live, I have Monday, Thursday, Saturday and Sunday bazaars. Their thrift section is just Ok. Most of the stuff are not that good, they are so damn worn out, but our Pakhtun stall holder knows how to fool you.
Thing which irritates me, is its SMELL. These sections have this specific smell which I can't explain. It makes me keel over.
Photo credit:
Pazhi